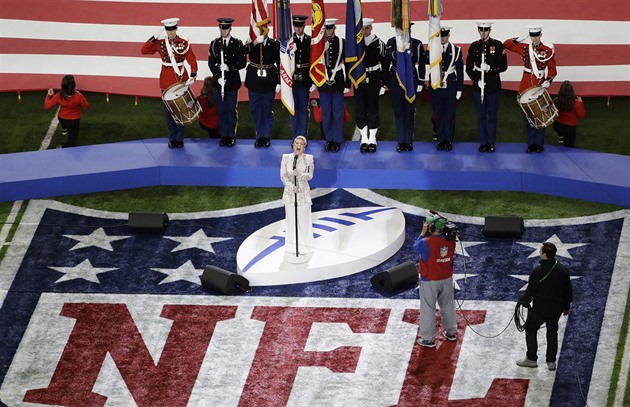 When he looked at his photos and shots after a few days, his flesh was over again. "It drew me up and touched me as if I had experienced it a second time. I had goosebumps. I am afraid that if I retrospectively look at the photo and video from my own wedding, nothing will happen, "says Zbynek Zelink.
The experience waved with him is called the Super Bowl. Alligators, the manager of the US football team, found themselves among the lucky ones on Sunday who could watch the most popular, most watched and most prestigious event of American sports directly at the stadium. "It was like a ticket to paradise."
American football has been sweeping away for a long time, his spell gone down before most Czechs had any idea about it.But one thing he knew almost certainly was: I would never live a Super Bowl.
"Originally, there was no place to look at him. I rode around Žabiny and bell to the strange people who had a satellite on the bar, with a cassette, if they could play me the game. Then they started broadcasting the available TV, later we started to make a team party at the bar. But getting to the match was something unimaginable, "says Zelinka, 45, but this year he has given him a rare opportunity. His travels led him to Minneapolis, where the NFL finals took place. "If I knew I was going to the Super Bowl, I would be nervous and something would have happened.But I did not know it, "he describes. "I figured that when I walk around the stadium and look at the match somewhere in the local bar, it will be great."
To buy the ticket, he had no idea, the burglars offered him for the sums starting at two and a half thousand dollars, or about 50 thousand crowns. "I would rather go to the bar for $ 40," laughs Zelinka.
However, the conversation (of course) came to football and Zelink's counterpart mentioned that he could get a valuable commodity. On Sunday morning, the call came that it was successful.
"I did not want to believe it until I had a ticket in my hand," says the Brno manager. "When I walked down the street, I was so excited that I was screaming like that American wow!When I wrote three esemes, I had frozen hands, but I did not mind. "
Fans do not have to worry about getting a crucible
The US State of Minnesota is renowned for the cold temperatures that fell below the twenty degrees Celsius before the Super Bowl. The U. S. Bank Stadium itself is covered but monstrous accompanying events took place outside.
"For example, snowmobiles jumped on the ramp, one crossed the square. Over the winter there were clouds of people and volunteers who were giggling you to have fun.Atmosphere was electrifying, the way to the stadium of man absorbed the crowd that makes you share the joy with him, "says Zelinka.
The number and voiced predominance were definitely supportive of the Philadelphia Eagles team, which eventually favored New England Patriots in the breathtaking game he beat 41:33.
"But when you are at the stadium, it does not matter who you want. You just enjoy that holiday. I fancied the Eagles, but I found myself applauding even among their fans when something was done to the Patriots. I was in such a trance that I started to recapture moments after the game. Suddenly, it started to happen that I was really there.It was like alcohol-free alcoholic drunkenness, "Zelinka says.
After returning to the Czech Republic, he found out that he paid over a thousand for a few beers. "I did not deal with it, I paid for the card. For four small beers I gave $ 52, so one-third came to almost CZK 270. But how many times do you get to the Super Bowl? "
This question was asked by Zelinka just after the game. "And I think that such a coincidence will not happen again."
Not everything in the shiny superaction was flawless. For example, in the queues for the toilet, male fans have spent eternity. "Usually she is in the women's queue, but this was the other way round, although the disparity between the visitors was not so pronounced.People were pushing, they were overtaking, some had to go to wheelchairs, "reveals Zelinka.
But the atmosphere on the stands has brought him down, even though many in the Czech Republic consider American audiences to be cool consumers of meals and drinks,
"That's absolutely not true. I had a cushioned seat, but if I sat on it for 10 percent of the time, it was too much. It stood, sang, cheered, strangers with you. The atmosphere was totally beautiful. A few years ago I had the opportunity to visit university football and it was the same. People came with whole families and did not have to worry about us getting a crucible or hearing insults.They have come to enjoy the game and the atmosphere. "
The Super Bowl is no longer just an American passion, it's the more and more Bohemians going to the broad ball – whether from a TV sofa or directly on the pitch. "As far as expanding awareness of American football, it's a good start for us.
The Czech Association has signed a contract with the Czech Television and has launched a channel on YouTube, which has made football more fans. Normally, I'll meet people in Lužánky who are throwing away the ball with a shaggy ball. And when I ask them who they're playing for, they'll answer that they're for no one and they just throw away.That's nice and it did not happen before, "he expects the Alligator's manager. But he is fooling against a phenomenon that is more and more intertwined with popularity. Some teams improve their payouts paid by players from abroad, especially from the USA. Zelinka regards the influx of so-called imports as malignant.
"I'm a black sheep because of this. But I think it is nonsense for teams to push money from sponsors to imports to help them win something. That is transient. Those players will leave and what then? There are situations where the Americans play in the team and the local boys leave because they do not really play.And so the team will eventually splinter. "
How to increase the level of sport that is still growing in diapers in the Czech Republic? "If anyone wants to invest in the import, the right way is, in my opinion, to involve the coach. Some players, after training, come home, lie, play on PlayStation and do not care. Maximum knowledge of local bars. Additionally, problems arise when one knows that he will not play because of the American, so he does not try so much.As a coach takes much more effort, he prepares himself before and after the training and teaches the player more, "believes Zelinka, whose alligators will return to the highest competition this year.
No foreigners. "Our boys will meet the best teams in the country with imports, so for many of them it will be a big blow and they will know how much it hurts. In addition, our cadre is not the widest. But it's not that bad, so we'll want to go through a leap-up head and not be afraid of a barking dog, "says the manager.