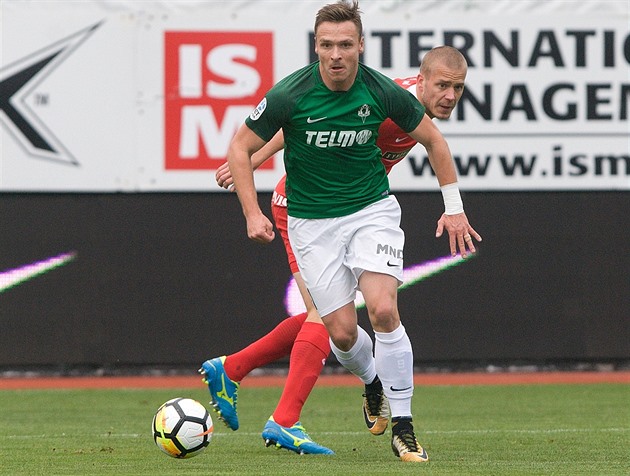 After an agreement with the new coach Slavia Jindřich Trpišovský but Tecl in Jablonec will eventually remain in the spring part.
"I talked to him during the holidays and we agreed that it would be better for me I will stay in Jablonec. Slavia has enough of the attackers, so he would rather count on me to play from the right, which I did not want much. I am more free to attack, "explained 27-year-old forvard Stanislav Tecl yesterday at the start of Jablonec winter training. "I hope that even the games will play well in the spring and maybe for me the chances in Slavia will come in the summer."
The new junior coach, Petr Rada, continued to hold the key offensive support in the team. "It is a great thing that Tecl has stayed here.We had some fears that he would not return to Slavia, said Rada, who returned to Jablonec in ten years and a half, and replaced Zdenek Klucky on the bench, who will continue as his assistant with the A-Team.
Příjezd Lafaty? Probably not
Rado's arrival has speculated about the possible arrival of the star league cannonist David Lafata, whose future in Sparta is uncertain. "We can not do anything about it. Sparta is in turn, he's got a contract. These are just a lot of speculation that we know or that I've been training it. If Sparta counts with him, then it's pointless.But if a chance arose, we would be about fun, "said Council, which Lafata led last spring when engaged in Sparta and years ago in Jablonec.
Lafata played in Jablonec jersey with a total of 161 major league in which he scored a remarkable 88 goals.In case of his return to the Střelnice stadium in Jablonec there would be a strike attack Tecl – Lafata…
"If David came, that would be good because we will not find such a player in the Czech league surely much helped, "says Stanislav Tecl. "I can imagine playing next to each other, but it's still just speculation." In the theory area, this option is likely to remain, as Sparta says its spring captain for the rest of the clubs is unmistakable.
club owner Miroslav Pelta has won a remarkable turn in FK Jablonec in recent years.At the beginning of the last seven winter preparations, seven coaches were changed regularly, and the list of names is quite varied: in January 2012, Jablonec football players Komnacký led, followed by Kotal, Skuhravý, Šilhavý, Frťala and Klucký, now replaced by the Council.
"Jesus, I do not even know that," admits 59-year-old Petr Rada, who believes that this strange "tradition" is disturbing. "I would love to, even though I was a bit more cautious about this, but I spent almost four years in Jablonec, which was my longest coaching experience in one club. And yet my age is more advanced and I would not like to move anywhere again, "the coach said." The cadre yesterday took over the autumn without major player changes.Meanwhile, the first goal is goalkeeper Hanuš from Jihlava. "There are six more Sundays before the start of the league, and if we were pushing a shooter somewhere, we would have to deal with the possible reinforcements. But in the league they will only fourteen fights, to possibly three cup when we get to the final, and I think that for such matches in the spring here we have the players enough, "says the Council.
Jablonec footballers are after the autumn in the eighth league and in the cup went to the quarterfinals, in which Slovácko will host on February 28th. This Saturday they play from 11.00 on artificial grass in Mšena and Velké Hamry.